Pray. Give. Go.
1 Chronicles 16:24
"Declare his glory among the nations, his marvelous deeds among all peoples."
Local & Global Opportunities
Aspire Movement
The Aspire Movement is a faith-based mentoring movement that pairs at-risk youth with godly mentors starting in the 4th grade and continuing until the student graduates high school. What started in one school with 13 mentors has grown into over 20 schools with 250 plus mentor/student matches!
Mentoring looks different for everyone, but we ask mentors to see the children (i.e., their mentees) twice per month. During their time together, there are a variety of activities they can do; the main idea is to do life and spend time together.
This year we graduate our first class that started with us 9 years ago as 4th graders! Our graduates are going to college, trade school and entering the workforce! It has been amazing to watch the transformation take place in the lives of mentors and students.
PRAY
Pray for our ministry as we seek to adjust all that the Coronavirus has thrown at us. Pray for wisdom for board and staff, as well as wisdom and discernment for mentors to begin re-engaging their students.

Pray for our high school graduates as they transition out of high school and begin the next chapter of their lives.

Pray that God would provide creative ways for us to recruit both new mentors and students.

Pray that God would change our youth and empower them to see His purpose in their lives.
GIVE
Many of our graduating seniors have not had senior pictures taken. We are working to schedule a session with our photographer downtown to capture some lasting and memorable photos for our seniors and their mentors. We have 7 students graduating and are asking individuals to sponsor a student or contribute whatever they can to our project.
Cost per student: $250

Total project: $1750
GO
Going for Aspire means becoming a mentor. Simply fill out an application and background check through our website, after which someone will contact you regarding training and placement. Please be patient with us during this process as we are experiencing an unprecedented time in the life of our ministry.
Forgotten Children Ministries
FCM was founded in 1998 in the aftermath of hurricane Mitch, reducing Honduras to a third world country in chaos. In the calamity of mudslides and floods that killed over 7,000 people, one man's heart was broken over the footage of orphaned street kid's bodies being tossed into mass graves by a bulldozer. Stan Nowell's vision to provide a shelter and a shade from the heat of the day and a refuge from the storm and the rain (Isaiah 4:6) for kids without family, homes, or hope was birthed by God. Since that time, FCM has been the home and hope for hundreds of young men and women who live at Grace Farm. While we have had many challenges to attack our mission, Covid -19 has been unique as it is preventing our short term teams from coming to minister to our girls, boys, church and the local community. Our 31 annual short term teams provide hands, feet, and heart of Jesus' ministry to the young ones we have in our care. Our teams disciple in the church we planted and also share Christ in the surrounding communities and even the city garbage dump that is home to many.
Pray
The loss of those teams has left a lot of time, love, and attention that orphan kids sorely need to feel acceptance. Our kids are used to having that, so please pray that while we are quarantined physically away from them, they would still draw near to God and feel His acceptance.

Pray for The Rhodes and Vanvactours, our young missionaries on the field, to continue to walk in God's faith and peace while being on lockdown in a 3rd world country with young kids.

Pray for the Holy Spirit to be at work in our ministry leaders to make disciples of Christ during such suffering.

Pray for mercy on the 500 families we minister to who live in abject poverty without power, water, and often hope.
Give
While COVID-19 prevents our mission teams from ministering to the families of Honduras, it will not stop our God. In following the lead that many of you have set by being the hands and feet of Christ, our college-age boys are ready to minister now and bring hope and food to the hungry. Your $25 donation will be used to buy rice and beans to feed one family that will be delivered "curbside" and to support our own Grace Farm boys and girls. One out of every five Hondurans live on $1.90 a day, and these families are the very ones we will provide for during this pandemic.
Go
The Stubbs family leads two mission trips during the year to Honduras in July and during the Christmas season. They would love for you to be a part!
Kopwe Family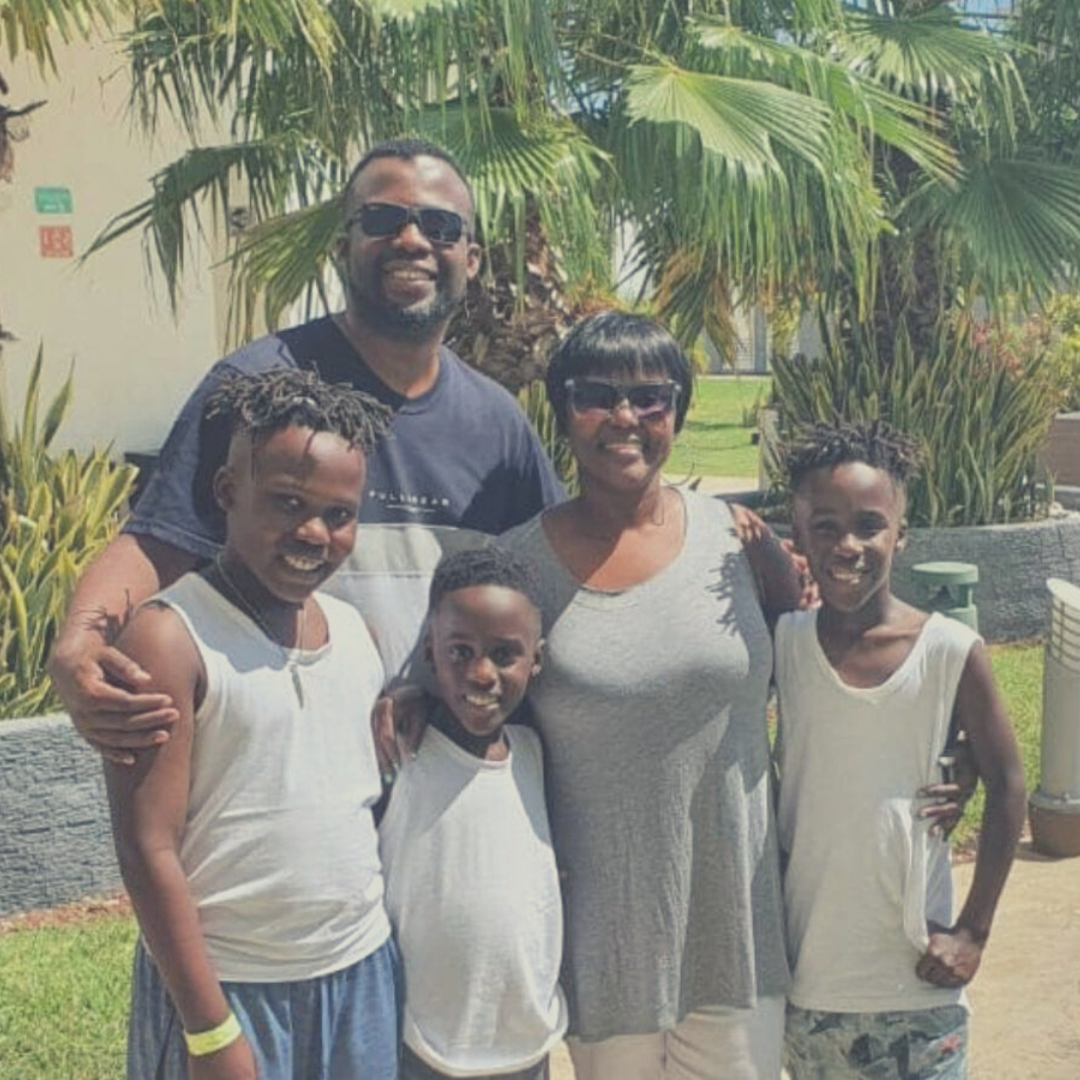 Meet James, Deborah, Jaden, Davis, and JP Kopwe, a missionary family in Birmingham, AL, originally from Tanzania Africa. They have attended Tapestry Church a few times and love our mission. Due to some unfortunate circumstances relating to expired paperwork during a mission trip, James was leading from the US in Tanzania he has been unable to return to America for five years. This picture was taken twelve weeks ago in Mexico, where they meet once a year to visit one another. That leaves Deborah here to care for their three boys. She also is a nurse on a Covid-19 floor at UAB. You can imagine the exhaustion and stress of full-time work and care for a family as a single parent, with only the occasional help from a sister who is a full-time student.
Pray
Pray for protection and health for the Kopwe Family, as Deborah works with Covid-19 patients.

Pray for grace for James as he lives apart from his family.

Pray God would allow clear and consistent communication between the family during this time.

Pray the three boys to experience the grace and power of God being separated from their father during this season.
Give
As a church, it would be wonderful to provide some meals for their family during this time, so that is one less thing on Deborah's plate. You can either order a meal through Maureen Holt, who is a caterer, and will deliver the meal to her door, or you can provide it on your own. The lunch with Caterer, Maureen Holt, is a meal, dessert, and delivery for 5 for $60. Her Venmo is @Maureen-Holt-2, and her number is 205-532-2121 to set it up and give her a message for them. Please include you are a part of Tapestry Church if you decide to participate because they will not know everyone. If you would like to cook for them yourself, please contact Evie Stubbs at 205-837-1687 as she will be handling the scheduling.
Go
Provide a meal to the Kopwe family with a message of encouragement.
Cooperative Outreach of India
https://genesisofhope.reachapp.co/
India is a country of over 1 billion people where 98% of whom have little to no knowledge of the gospel. It is home to, by far, the most unreached people groups in the world with 2,444 (the second most being Pakistan with 501 *Joshua Project). The spiritual and physical poverty in India is staggering. Tapestry is committed to serving the advancement of the gospel among the unreached by partnering with COI.
Cooperative Outreach of India is an endogenously led organization based out of New Delhi that actively pursues underprivileged communities throughout North India. They serve the Indian people through livelihood projects, clean drinking water, educational and vocational training centers, health clinics, child sponsorships, hospitals, television broadcasts and other various community activities and festivals.
Their desire is to see these communities transformed with Truth and Love by empowering the most vulnerable and marginalized sectors of the society to help them towards a value based life and assure people's accessibility to relevant education. This creates a link between resources and needs, promotion of justice, and equality and dignity in the community.
Below is a brief update from our brother JoJo in Delhi:
Pray
That the Church in India will persist in faith through much persecution and oppression.

That the gospel will spread across India and the rest of South Asia.

For COI as they minister to those affected by the Covid outbreak.

Specifically for JoJo and his family as they are currently facing persecution from neighbors and communities who do not want him to continue.
Give
JoJo has asked that we give towards their child sponsorship program, Genesis of Hope.
Link to sponsor a child:
https://genesisofhope.reachapp.co/sponsorships?page=1
Go
We will be taking short term trips to India in the near future. For more information contact
Harvest Community Charities
Our Mission:
To end food insecurity and break the generational cycle of poverty across the United States.
How We Do It:
We equip communities to engage their available resources while establishing lasting, transformative relationships. After assessing local communities and their food situations, we recommend the best tool or tailored program to address the community's unique situation.
Pray
Harvest Community Charities is working to send trucks of food to areas that are experiencing extreme shortages of nutritious food. Pray for resources to provide meals to these communities.

Pray for individuals facing food insecurity due to Covid-19.
Give
Hunger exists 365 days a year. Make a difference and join our food drive 365 program to sponsor healthy, nutritional meals for families in need. Sign your organization up to sponsor monthly meals for families in need with our Food Drive 365 program. Every sponsored meal includes one protein and two fresh, nutritional vegetables for two adults and one child. Partner with us and make a difference today!
Go
Become A Prayer Partner.

Sign Up For Our Newsletter.
Samaritans Purse
https://www.samaritanspurse.org/
The story of the Good Samaritan (Luke 10:30-37) gives a clear picture of God's desire for us to help those in desperate need wherever we find them. After describing how the Samaritan rescued a hurting man whom others had passed by, Jesus told His hearers, "Go and do likewise." For over 40 years, Samaritan's Purse has done their utmost to follow Christ's command by going to the aid of the world's poor, sick, and suffering.
They are an effective means of reaching hurting people in countries around the world with food, medicine, and other assistance in the Name of Jesus Christ. This helps earn the opportunity to share the Gospel, the Good News of eternal life through Jesus Christ.
As teams work in crisis areas of the world, people often ask, "Why did you come?" The answer is always the same: "We have come to help you in the Name of the Lord Jesus Christ." The ministry is all about Jesus—first, last, and always. As the Apostle Paul said, "For we do not preach ourselves, but Jesus Christ as Lord, and ourselves as your servants for Jesus' sake" (2 Corinthians 4:5, NIV).
Pray
Pray for the international crisis teams fighting Covid-19.

Pray for the U.S. Disaster relief teams responding to communities experiencing flooding.

Pray for all the patients in New York that the Samaritans Purse volunteers had the opportunity to impact through word and deed.

Pray for wisdom and guidance for leadership as they navigate challenging situations in our country.
Give
North American Ministries responds quickly when natural disasters strike, deploying an army of volunteers to come alongside homeowners to bring relief and compassion in Jesus' Name. They also lead construction projects in remote Alaska and other parts of the world. Your support helps volunteers be sent out.
Go
Samaritan's Purse offers many U.S. Disaster relief mission trips as well as medical mission trips. You can find more information by following the give link below.
Other Cross-Cultural Opportunities
Contact:
International Student Outreach: Churches across Birmingham have mobilized to ensure that (as much as we can) the students who have traveled from all around the world to study in our universities are matched with an American family who will welcome and intentionally spend time with them throughout their stay.
Refugee Resettlement: Refugees fleeing violence in their home countries have sought refuge in cities all across the US. We can help them through advocacy, assisting in job training/placement, learning English, and just by helping them integrate into a new life here. In many cases, these refugees are coming from contexts where they previously had no access to the gospel of Jesus. This is a very unique opportunity to serve the sojourner among us (Ex 22:21).
Perspectives Training: Perspectives is an excellent class that dives into the history and methodology of missions. Classes will resume in the Fall and will be held online if need be with Covid-19. If you are interested in visiting or enrolling contact Josh.
ESL: Do you speak English? Then you're qualified teach English as a Second Language to people from all over the world who have moved to Birmingham. This is a great opportunity to begin meaningful relationships with internationals in our city. Unfortunately, most of these classes have been canceled because of Covid-19 but we will be posting when they become available again!
Tapestry Global: Hopefully in the near future, we will be sending short, mid, and long term teams around the world. To stay up-to-date with mission trips through Tapestry Global visit the webpage and follow us on social media @tapestryBHAM.